All articles under '16 & Pregnant'

Nikkole Paulun's son recently started pre-k and seems to be making quite the impression on his teachers!
The note reads: Nicole, just note to let you know how much we enjoy having Lyle in our class. He is a great listener, a good friend to everyone, and very polite. We love having Lyle in our class!
It looks like Nikkole and her team of loving family have done quite a bit right, in raising such a great kiddo!
We all remember Allie Mendozza's baby daddy as the guy who couldn't/wouldn't get a job, and subsequently didn't help much at all with their son. However, it looks like Joey has turned over a new leaf & is getting his life together!
On July 9th, Joey Aranzetta turned in his chuck-e-cheese uniform & shipped out to start his military career and endure the "fun" that is boot camp, just 2 months after graduating high school. He essentially fell off the face of the technological planet, as most do during that time. But has returned, a Soldier in the United States Army.
Joey has finished boot camp and is headed to good ole Petersburg, Virginia to finish up his military training. Even though Petersburg is a far cry from paradise, it looks like Joey is excited, simply for a change in scenery and to be done with Boot Camp.
Congrats to Joey and good luck!
Sabrina Solares is excited to finally have her day in court tomorrow, against her daughter's father, Iman.
He court appearance is to establish Iman's paternity since he is not on the birth certificate, and to calculate child support for their daughter, Audrey.
Sabrina says "I'm not happy for the child support for myself, I'm happy just to get Audrey more stuff. Even when I have extra money, I spend it on her, not me."
She says that Iman has sent his daughter "close to nothing" in the last 13 months, so she's frankly "ready to get his ass."
No one signs up to be a single mother, and even if it happens, no parent should ever have 100% of the financial responsibility resting on their shoulders.
The courts will decide what's fair, and Sabrina will no longer be expected to do everything on her own.
Congrats & good luck!
@TheRealHeatherC


With all of the iOS excitement, the teen moms are loving/hating everything about the wait, trying to update, and the new software! See what they're saying!
Maci Bookout: Maci commented on the fact that her twitter feed was taken over by iOS 7 tweets, with a little Grand Theft Auto, and a dash of Pumpkin Spice talk.
Jenelle Evans: Jenelle let fans know when to expect the update to be available and then expressed her shock about the fact that the new iPhone, out Friday, will have a finger print scanner.
Katie Yeager: Katie is planning on upgrading her 4s to the colorful and less expensive 5c tomorrow, when it comes out & was waiting eagerly for her update today.
Briana DeJesus: Briana is LOVING the new passcode lock!
Mackenzie McKee: Mackenzie says "Everyone's all iOS 7, and in over here like…team Galaxy :("
Kayla Jordan: Kayla is fighting with the "update not available page."
Stephanie Simms: Corey's cousin is not happy that she doesn't have the update yet.
Jordan Ward: Jordan was waiting patiently for her update her come.
Sabrina Solares: Sabrina was annoyed with all of the iOS chatter going on.
Do you have the new update?! Do you love it? Hate it? Run into any problems? Share!
@TheRealHeatherC

Tomorrow morning at the crack ass of dawn, Nikkole Paulun is joining Maci, Farrah & Jenelle, on the list of Teen Moms who have gotten enhancements done!
Nikkole will be trading in her 32A's for some shiny new 32 C's!
Nikkole's mom agreed to paid for half of the surgery while Nikkole paid the other half, herself, with money that she had saved up for the procedure. Nikkole works full time at a local store. Her mom offered to pay half because she's looking forward to seeing something positive happen for her daughter after having such a rough few months.
Nikkole says she's terrified of the surgery and has been freaking out about the pain of recovery, and just the thought of being put under anesthesia. It doesn't help that they told her they have to put a tube down her throat for the duration of the procedure. The only other surgeries she has had were for her wisdom teeth and to have her Mirena removed after it shifted and made it's way into her lower abdomen, so she's pretty wound up and freaked out.
The worst part about preparing for surgery? She can't eat or drink anything after 8pm tonight, and as a night owl, that's when plenty of her snacking is done, so she's having stomach pains just thinking about the hunger she's about to endure.
I'll post pictures of the after product as soon as she has recovered enough to share!
Good luck Nikkole!

Ever wonder which teams your fave teen moms are watching while you're digging into your game nachos?

Here's a list of who they're watching today!

Catelynn Lowell – University of Michigan. "GO BLUE!!!"

The Simms Family – West Virginia University
Kayla Jordan – Alabama, though they're not playing today.
Katie Yeager – University of Utah. "Go Utes!"
The Houskas – University of Nebraska-Lincoln.
Maci Bookout – University of Tennessee.
Celebrating Maci's dad's birthday, UT style!
Who are YOU rooting for?!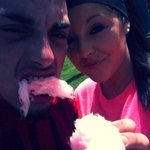 Danielle Cunningham of 16 & Pregnant Season 3 has had her fair share of struggles in the last couple of years sine being on the show, but has since seemed to clean up her act,thanks in part to her newest addition.
Just a few months ago, Danielle gave birth to her second child, a daughter. In a silver-lining event, her baby daddy was released from jail and they have been working on restructuring a healthy relationship together.
It looks like it's working because just the two of them & their two little ones are moving into their own two bedroom apartment tomorrow.
Danielle could not be more excited for the new place, but also to be growing up and able to be able to get a place of their own. Their relationship has grown significantly stronger as a couple, and they seem tobe heading in the right direction, and all for the sake of their children.
Congrats to the happy couple and good luck on the move!