16 & Pregnant – Season 4 – Mackenzie – RECAP!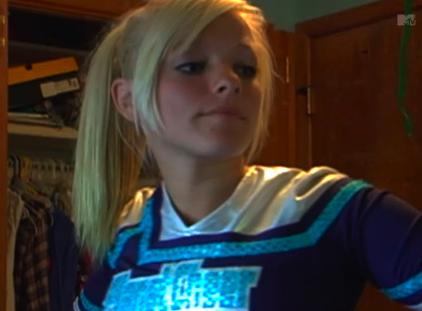 Mackenzie was far too adorable, and it's quite obvious why she was shown as the season premiere. Enough drama to be interesting, but homely and polite. Good job, MTV.
This episode was a lot like Farrah's, including the shot of her in her cheering uniform at about 7 months pregnant. And down to the baby daddy getting into a car accident.
The major struggle in this was baby daddy wanting to continue bull riding even after getting into a bad car accident and after the baby was born. Any time Mackenzie seemed to get through to him, his little hobbit friend of sweet nothings would whisper in his ear and sway him the other way.
In the end, there was really no resolution. Baby daddy seemed pretty out of it for a lot of the episode and Mackenzie just kind of had to be patient and hope that he eventually comes around.
Fun fact: She breastfed!
Fun quote: "I didn't wanna take birth control because I didn't want to gain weight."